Coins
XRP Owners Are About To Get Their Spark Tokens
coinputin.com – XRP, as it is known, has recently experienced a big upswing. The rally, which saw an increase of almost over 200%, gave XRP owners hope.It is claimed that what has helped push XRP to current levels while this rise is being built is also the promise of Flare AirDrop and free Spark token.
Flare airdrop "snap shot"for XRP holders will take place later this week, and there are only a few days left to prepare your wallet, request Spark tokens. So are you ready for airdrop?
Why did Flare AirDrop trigger XRP explosion?
XRP investors experienced a more painful bear market than most other crypto investors and suffered major woes after the market's worst performance for three years. With each drop in the price of XRP, the army of investors also began to psychologically collapse. Those who have managed to hold on, however, are expected to return to the top 4 of 2020. he was well rewarded with a surprise rally of 200% in the quarter.
In addition to bullish momentum and the resulting return on investment, Ripple owners can claim an equal amount of Spark tokens as part of Flare Network's upcoming AirDrop. The lure of free tokens, which can only be accessed by holding XRP, was part of what has driven altcoin's recent rise, according to analysts. That's why investors don't want to miss AirDrop for just three days.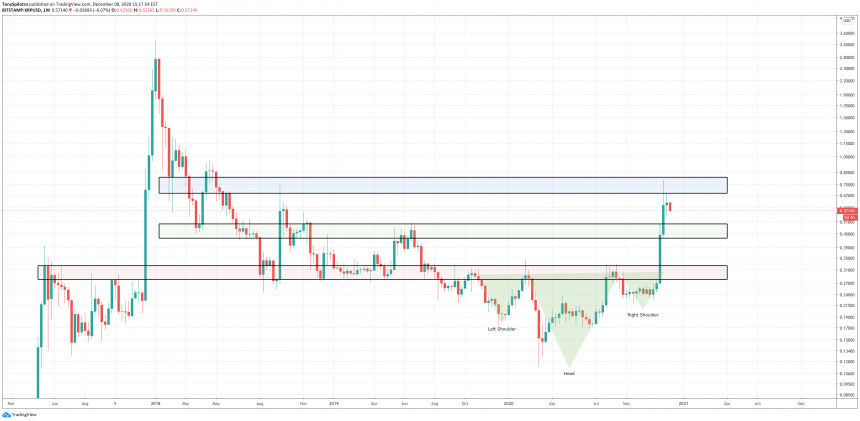 How To Get Spark Token?
Flare Network uses the XRP Ledger but brings Ethereum smart contracts to run DeFi applications in the protocol created by Ripple. The easiest possible way to claim Spark tokens is to store XRP on any cryptocurrency exchange that supports Flare Network AirDrop. These include Binance, Bithumb, Bitfinex, eToro, Crypto.com, FTX, Huobi, Kraken, OKEX, KuCoin, Paribu, BtcTurk and even Coinbase, which users think will not support.
A full list of supported exchanges is available on the Flare website. So is there any need to do anything? Not if XRP's on the stock market. Each exchange will handle the entire transaction for you and at some point will offer Spark tokens to investors who are holding XRP in their hands at the time.
Tokens May Not Be Issued Immediately
However, it is worth noting that anyone interested in joining AirDrop through any of the supported exchanges should pay close attention to the relevant details that emerge. Coinbase, for example, does not plan to give users any Spark tokens until an unspecified "forward date" and reminds everyone that the tokens are subject to legal scrutiny first. Basically, there's a chance that you won't be able to get a Spark token from the stock market, even though they joined AirDrop. In the end, this is a matter that ultimately comes down to the regulators of each region.
To maintain ownership of any Spark token, you can keep XRP in a wallet at your own risk. Users should also ensure that they have access to an off-exchange Ethereum address. The remaining steps were kindly outlined by "Wietse", an XRP supporter and developer. References XRPtoolkit.com it involves visiting with a connected Ledger Nano to interact with the notebook and request tokens.
Spark tokens will be available after snap shot on December 12, 2020.
Join our Telegram Channel coinputin for latest cryptocurrency news and discussions..