Markets
With the rise in Ethereum (ETH), the value locked in ETH 2.0 reached a record high
The Ethereum 2.0 or ETH2 stake contract continues to attract deposits. The contract currently includes Ethereum (ETH), worth $ 1 billion.
The amount of ETH invested in the contract exceeded 1.5 million. The $ 1 billion level, according to TradingView, continues to rise due to rising investment and the price of the ETH. Ethereum is currently trading on the Coinbase exchange for over $ 660.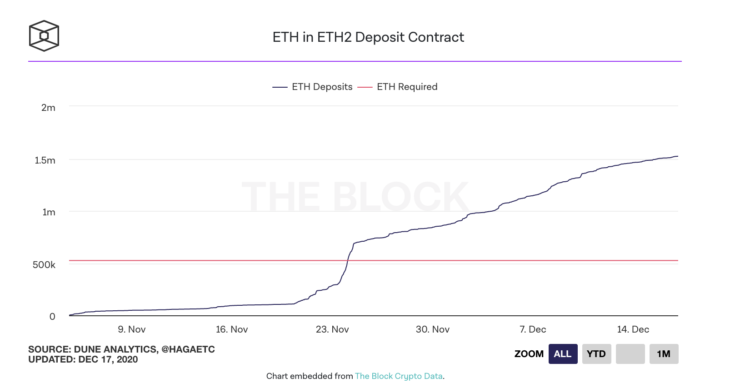 Source: The Block
There is no expiration date for the contract. In other words, people can continue to invest ETH in the contract to receive stake rewards.
On December 1, the ETH2 ride began, representing the transition from the proof-of-work model to the proof-of-stake network. Stage 0, or Beacon blockchain, served as a kind of backbone for ETH2. Ethereum still has a long way to go to fully transition to the new network. The new blockchain is expected to be more efficient and scalable than the existing proof-of-work network.
Join our Telegram Channel coinputin for latest cryptocurrency news and discussions..