The information and Industry Development Center (CCID), an agency of the Ministry of Industry and Information Technology of China, and the Secretariat of the China Blockchain Ecosystem Alliance, are the 21st members of the CCID Global Public Blockchain Technology Assessment Index. he published his version. 37 projects were examined in detail in the index. EOS ranked first in my ranking, followed by ETH and IOST.
CCID comprehensively evaluates and sorts 37 of the best-known blockchain projects, including Bitcoin and other smart contract platforms.
Under basic technology, CCID specifically controls the level of technical realization of the public chain. In this category, the project is evaluated according to its performance, level of decentralization and safety. In this category, EOS scored 110.2, IOST 105.6 and Ethereum 79.7.
The Creativity / Innovation category controls the continuous evaluation of the project. In this category Bitcoin ranked first, followed by Ethereum and EOS.
Under applicability, CCID checked the level of support offered by the network to dApps. In this category, the focus is node deployment, wallet application, development support and application. Here, Ethereum took the first place.
EOS first in the overall ranking
In the overall ranking, created from the average of all categories, EOS ranked first with 147.4 points. EOS was followed by ETH, IOST and TRON. 7 in bitcoin rankings. he took part in the step.
The evaluation results show that the top five on this list are EOS, Ethereum, IOST, TRON and Stellar. The ranking of Tezos, Komodo, Stellar, GX Chain and Bitcoin rose compared to the previous index, among which Tezos rose 16 places, Komodo rose 9 places, Stellar, GX Chain and Bitcoin rose 4 places. 7 in this number of Bitcoin. is ranked.
The rest of the list is as follows::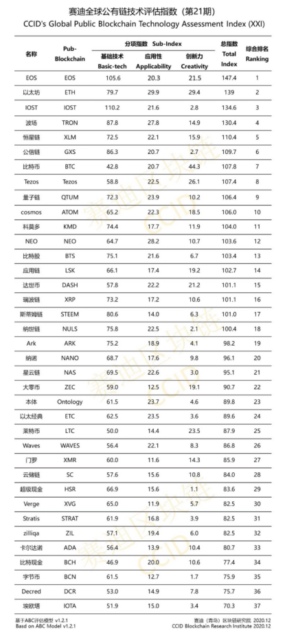 Join our Telegram Channel coinputin for latest cryptocurrency news and discussions..