Business
Which Companies Have The Most Bitcoin In The World?
coinputin.com – According to Bankr data, the 10 companies that have the most Bitcoin around the world have been announced. At the top of the list, as anyone can imagine, is Grayscale.
Bitcoin has set a record in the past few hours, reaching an all-time high price. With the price rising in 2020, Bitcoin demand is no longer driven solely by retail investors. However, many institutions also began to stock large quantities of BTC.
Data presented by Bankr shows that the top ten companies held about $ 830,433 billion worth of bitcoins, based on the transaction price as of November 30, 2020. This figure accounts for 3.96% of the total 21 million bitcoins in supply. The US-based Grayscale Bitcoin Trust ranks first with 590,581 BTC worth $ 11.6 billion. The amount represents 2.43% of the total Bitcoin in supply. Jack Dorsey's firm, Square, is in tenth place with $ 93 million worth of 4,709 BTC. The figure represents 0.02% of the total Bitcoin in supply. Of the 10 listed firms, 6 are based in the US.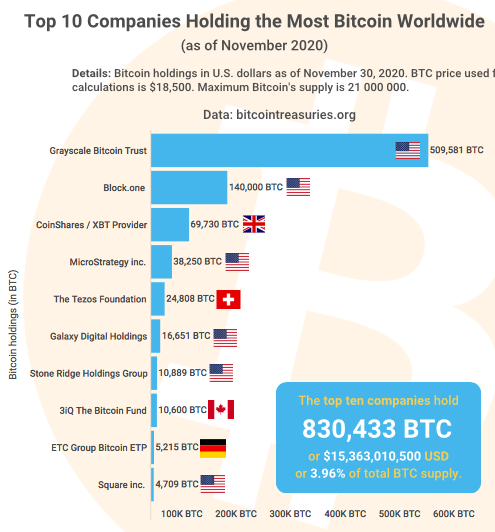 Became Interested Institutions
More and more companies are now interested in Bitcoin and other cryptocurrencies. We often hear that many firms are converting fiat reserves into Bitcoin day by day. This trend represents confidence in the cryptocurrency market despite high volatility. Bitcoin has become the investment asset of more companies in 2020 as it emerges strongly from the coronavirus crisis, outpacing traditional repositories of wealth such as gold and silver.
The pandemic caused the stock market to crash. Although most stocks have fallen to their historical lows, some have begun to recover as they hit all-time highs. Some governments have turned to practices such as printing more money to stimulate the economy, such a move affecting companies that hold millions in fiat reserves as the currency depreciates significantly. This, in turn, has led companies to consider BTC as an investment option.
Join our Telegram Channel coinputin for latest cryptocurrency news and discussions..