Coins
When will XRP owners receive their Spark tokens?
Flare Networks recorded a snapshot of the XRP network at 03:00a.m. today. The process aims to ensure that all XRP's registered with participating cryptocurrency exchanges and private wallets receive a share of Free Spark tokens.
Ripple's fund-raising and development team says it is looking forward to the projects flare's smart contract ecosystem will bring to the XRP network.
"Congratulations Flare Networks! It's exciting to see the closing of the" DeFi year " with some unique advantages exclusive to the XRP community. Let 2021 bring more trials, cross-chain interoperability and utilization!"
According to data from crypto analysis firm centiment, the number of whale XRP wallets containing 10 million or more tokens has increased significantly due to airdrop. XRP, which pioneered SPARK AirDrop, grew rapidly.
"Specifically, addresses with balances of 10 million or more (currently $ 5.67 million or more) rose to 339, an all-time high. This looks promising for the audience with the most XRP."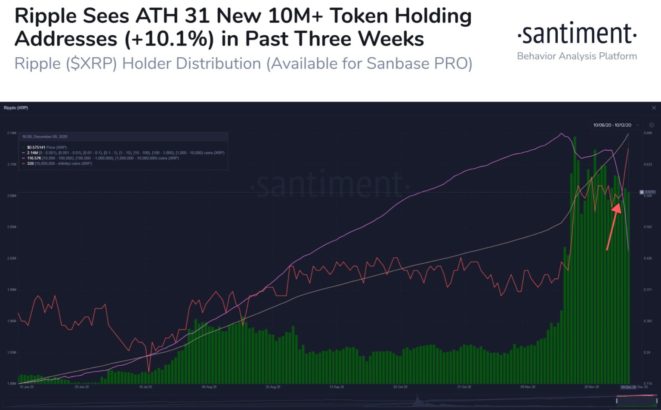 XRP's price rose in the weeks and months leading up to flare's snapshot day, rising from $ 0.25 on July 31 to $ 0.73 on November 23, according to CoinMarketCap.
XRP, the third-largest cryptocurrency, is currently trading at $ 0.52, down 2.99% in the last 24 hours.
When Will It Be Distributed?
Now, step one of the AirDrop is complete. March May 2021 Flare plans to distribute Spark governance tokens to XRP holders in a 1:1 ratio in the first half of next year (March – May 2021). Delivery time details can be reached by checking the announcements of the platform where you keep your XRP's
Join our Telegram Channel coinputin for latest cryptocurrency news and discussions..