With the latest developments happening today, here is the new predictions for today, December 12. Bitcoin (BTC) is experiencing a drastic recovery as it trades close to a combination of technical support boosted by some factors.
Bull setup in bitcoin (BTC)
The leading cryptocurrency is shaping what appears to be a rising triangle formation, confirmed by more than two confirmations of the top and bottom trendlines acting as resistance and support, respectively. As of this Friday, BTC/USD is testing the trend line of support for a potential retreat.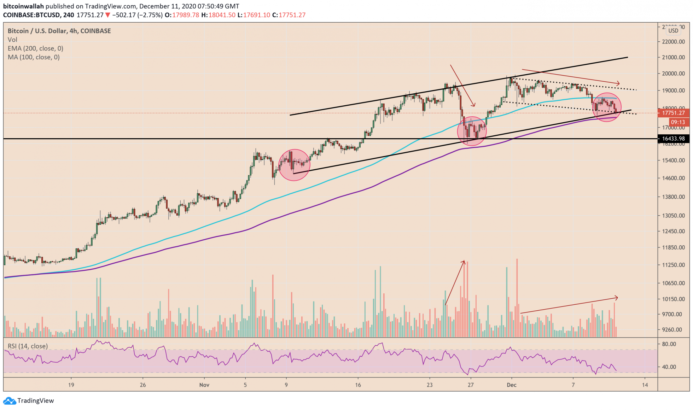 The trend line of the descending triangle formation converges with the support trend line of the ascending triangle formation. This doubles the region's strength while protecting Bitcoin from further decline attacks. Tripling strength makes a noticeable difference between the cryptocurrency's rising volume and its falling price. This technically marks an upswing.
However, Bitcoin could face the risk of a long downward correction below its default price base if more traders decide to secure their profits. Many analysts think the cryptocurrency could fall to around $ 16,000. But he adds that it could experience a big pullback towards its previous high of close to $ 20,000.
The formation of the rising triangle formation says the same thing. Earlier, each of Bitcoin's attempts to close below the support trend line had faced strong buying pressure from Bulls. As a result, it reduced price losses and rose to the top trendline of the formation.
Given fractal, a reversal to formation resistance may occur when re-testing the current support trend of BTC/USD. That's an all-time high of around $ 21,000.
Tech Support: Corporate Bitcoin Investors
Massachusetts Mutual Life Insurance Co, a 156-year-old insurance company, announced on Thursday that it was buying $ 100 million worth of Bitcoin for investment purposes.
The investment looks small compared to the amount MassMutual already manages-assets worth about $ 235 billion-but is significant in that it points out that Bitcoin will grow more. The price of cryptocurrency peaked at about $ 20,000 in late November, after mainstream firms including MicroStrategy and Square invested in BTC as a measure against inflation.
Tyler Winklevoss, co-founder of Gemini, said MassMutual's latest investment guaranteed Bitcoin would reach $ 500,000 in the future. Speaking at the Singapore FinTech Festival, Winklevoss said::
"The type of investors in this bull run is very different. Super-sophisticated institutional investors like the legendary Paul Tudor Jones, [Stanley] Druckenmiller."
Bitcoin is currently trading about 11% below its ATH. This is a sign of decline correction, which typically follows parabolic upward movements. The leading cryptocurrency increased by about 150% in 2020.
Join our Telegram Channel coinputin for latest cryptocurrency news and discussions..