Analysis
,
Coins
The number of Ethereum (ETH) active addresses increased by a record in 2020
Ethereum (ETH), the second largest cryptocurrency by market capitalization, has gained 3.19% in the last 24 hours. As of broadcast time, Ethereum is trading at $ 558.64.
The number of active addresses in the Ethereum network increased by 140% in 2020. The number of active addresses increased from 158,039 on January 1 to 379,249 as of December 10.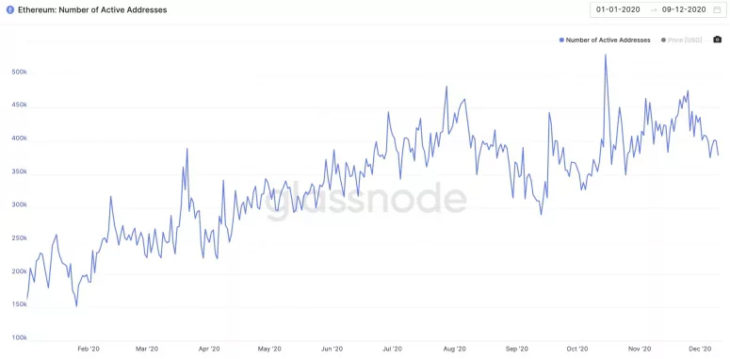 According to Denis Vinokourov of BeQuant, this data, along with measurements showing the movement of Ethereum users from centralized exchanges (CeFi) to decentralized exchanges (DeFi), creates a great liquidity opportunity for token economies within the ecosystem.
Vinokourov quoted:
Fee fees spent on investing ETH in Central stock exchanges fell below 1% as of December 9, according to Glassnode data. This charge was at 26% in October 2017. There is plenty of liquidity in the market. That's why DeFi tokens seem particularly attractive, despite their recent drawbacks."
Join our Telegram Channel coinputin for latest cryptocurrency news and discussions..