Coins
Massive XRP transfers continue!
Ripple (XRP), the fourth largest cryptocurrency by total market capitalization, gave life signals for the first time yesterday after a terrible start to the week. The XRP / USD trading pair has risen about 30% since last night after falling 42% in the last 7 days.
Giant transfers continue to occur at XRP, according to information provided by Whale Alert. After the announcement that Ripple was being sued by the SEC, there was a big decline in XRP, and giant XRP transfers began to occur.
XRP gained in value during the day. Giant transfers are also underway, according to Whale Alert. According to the tracking bot, there is a wave of transfers of large and small exchanges, anonymous wallets. These transfers occurred with the return of XRP to $ 0.37, and approximately 100 million XRP transfers were detected.
Suspicious transactions related to XRP
First, about 18 hours ago, more than 90,000,000 XRP's, or about $ 30 million, were transferred from an unknown wallet on the Coinbase cryptocurrency exchange. In addition, 39.405.209 XRP was transferred to an unknown wallet by Ripple. Finally, more than 180,000,000 XRP, i.e. about 53 million dollars, were transferred between unknown wallets.
Even Jed McCaleb, a former co-founder of Ripple known for its loaded XRP sales, didn't sell the XRP sent to him earlier in the week and waited, despite the panic. This, and the whale transactions above, actually indicate that the Ripple team knew something that XRP investors didn't.
4 Big Transfers In The Last 24 Hours
Cryptocurrency tracking bot Whale Alert tweeted that four major XRP transfers have taken place in the last 24 hours, totaling 95.6 million XRP. Meanwhile, the third-largest cryptocurrency, XRP, has recovered nearly 50 percent following a recent fall in news of the SEC lawsuit.
Whale Alert shared details of four high-stakes XRP transfers that amounted to $ 36,261,731. Transfers were made between major cryptocurrency exchanges and storage platforms: Binance, Houbi, BitGo, Bitrue, Kraken and others.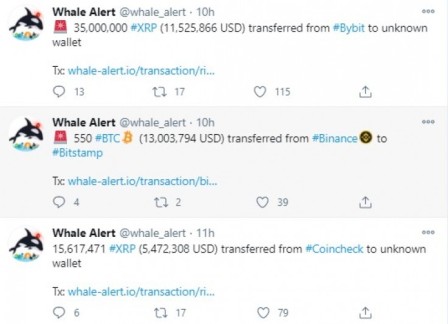 As a result of the recovery that XRP has experienced, the SEC has been shown to have a name that is allegedly cryptocurrency friendly. New chairman Elad Roisman is believed to be one of the SEC commissioners who has adopted a friendly attitude towards cryptocurrencies.
Join our Telegram Channel coinputin for latest cryptocurrency news and discussions..