Coins
Long-term Rise Expectation Continues in XRP
XRP seems to be in a slowdown period in the rally it started over the past few days. The popular altcoin was in decline in the morning. This means investors are saying, "Will XRP continue to fall?" it made him think. Different analysts make different comments on the subject. Let's take a look at them together.
One of the important commentators cryptocurrency community, stated that the long-term upward expectation in XRP continues. He said, "I'm sharing for XRP short positions. There is a double peak on the watch and a small sag may occur. The long-term rise expectation continues ".
And also added:
XRP is retesting the points it shot in 2018. The market is buying and the expectation of an increase continues. 80 cents and 99 cents targets. Stop Kijunsen (26-day moving average) is 50 cents."
Another important analyst Nebraskan Gooner states that XRP is at a very interesting point. Gooner uses the following statements: "XRP is at an interesting point. On the one hand, we have a 4H output, but the sound is very low. 2H break followed by stronger sales volume at the next candle. Potential 1H double top but local sales volume and potential breakout retest completed. Support is support. "
Can Come Out of Orbit
According to an analysis in News BTC, the RSI and MACD in the bull market are just on the rise, leaving Ripple two important bullish factors to be examined. On the weekly XRP charts against the dollar, the altcoin reached the top of the Bollinger Bands after crossing the midline. This also occurred during the last bull boom and ultimately led to the increase less than a year later.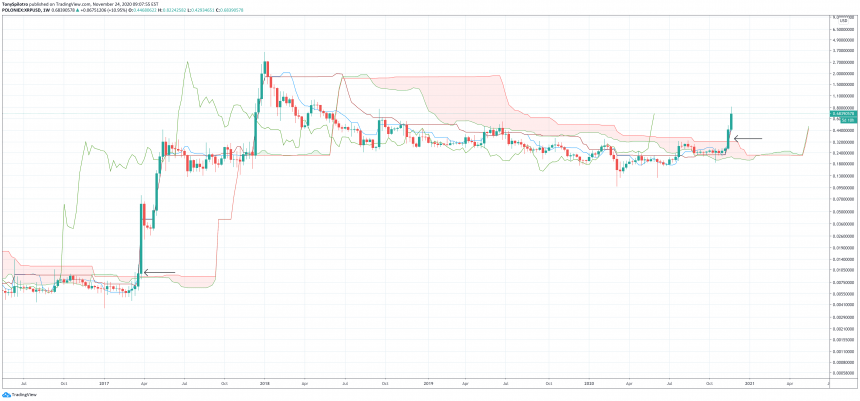 Bollinger Bands also mimic the signal provided by the Ichimoku cloud. After XRP crossed the cloud for the last time, Ripple entered the race for its bulls. Now the sky is no longer the limit as XRP rises above the cloud in weekly time frames, and the altcoin known as Ripple may soon exit orbit completely.
Coinputin Editorial Team
Join our Telegram Channel coinputin for latest cryptocurrency news and discussions..