Business
How U.S. Stimulus Package Prospects Affect Bitcoin
coinputin.com – Bitcoin reported modest gains today as Democrats signaled to reach a deal with Republicans by the end of the year.
House Speaker Nanci Pelosi said Wednesday that a new $ 908 billion aid package should be the basis for months of negotiations with the White House and GOP leaders. "Of course we and others will offer improvements," Pelosi said in a joint statement with Sen. Chuck Schumer, adding:
"We believe that we can reach an agreement through urgent and well-intentioned negotiations."
Stimulus Hopes Boost Bitcoin Price
The BTC / USD exchange rate was up 0.28 percent at $ 19,278 in the pre-trading New York session. Traders followed an extended upward movement toward the recently established record high of $ 20,000. A Reuters report said stimulus hopes had pushed the US dollar lower, leading Bitcoin to reach higher.
The Federal Reserve and the US government had previously committed to lower interest rates and unprecedented levels of monetary and fiscal stimulus, as well as endless quantitative easing, to protect the economy from the effects of the Covid-19 epidemic. The move sent the US dollar lower. As a result, Bitcoin has risen more than 400 per cent as investors fear inflation will bounce back in coming years. The cryptocurrency has shown itself on track to become an alternative to gold.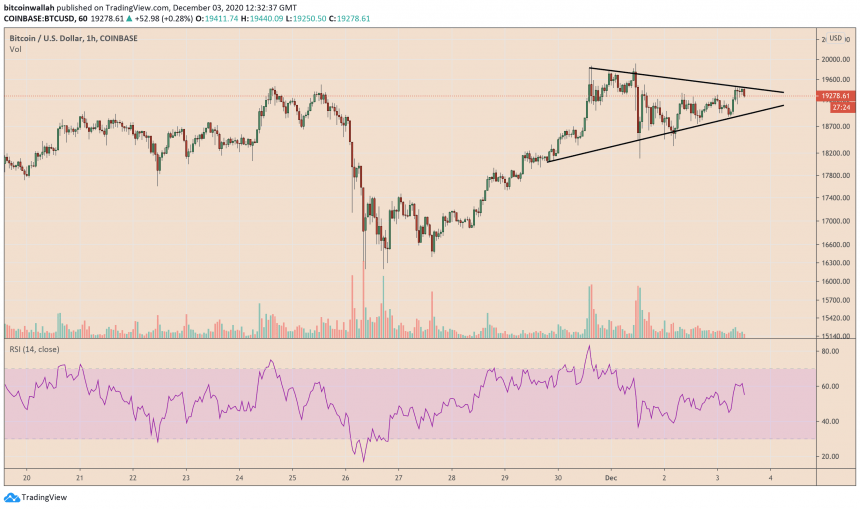 August and September 2020 Bitcoin's rally had been paused as the Republican-majority Senate rejected Democrats ' $ 2.4 trillion proposal. However, the cryptocurrency had continued to attract interest due to the flurry of inflation from mainstream companies. Some have also highlighted bitcoin as a credible rival to gold's dominance in the Safe Harbor Market.
Billionaire investors such as Paul Tudor Jones and Stan Druckenmiller have admitted to owning Bitcoin. Meanwhile, the Nasdaq-listed firm MicroStrategy replaced its $ 425 million cash reserve with cryptocurrency. Global Payments service Square also announced the acquisition of BTC worth $ 50 million. PayPal, BlackRock, Guggenheim, Visa and others have also continued to make positive statements about Bitcoin's long-term potential as a payment and a store of value asset.
Correction Won't Hurt Bullish Outlook On Bitcoin
Mike McGlone, senior commodities strategist at Bloomberg Intelligence, said the cryptocurrency would continue its bull run as the U.S. fiscal deficit widens and the Fed continues to pursue those policies.
On Thursday, the analyst said::
"$10,000 is the basis for Bitcoin's path to $ 50,000 in 2021. The drop in the first quarter could return Bitcoin to $ 10,000 support, but we believe the path to resistance is higher."
Join our Telegram Channel coinputin for latest cryptocurrency news and discussions..