Analysis
Ethereum (ETH) Technical Analysis: December 18, 2020
Ethereum hit a month-high against the US dollar, exceeding $ 675. The ETH price is currently adjusting for gains, but the declines are likely to remain below $ 630 in the near term. According to Aayush Jindal's technical analysis:
Ethereum gained bullish momentum after breaking the $ 620 resistance level.
The price rose to $ 675, well above the 100-hour simple moving average.
The hourly ETH / USD chart has a large upward trend line with support close to $ 638 (according to Kraken data).
The pair are currently consolidating their earnings above $ 640 and can continue their upward movement.
Ethereum (ETH) price reinforces earnings
Yesterday, there was a big upward movement in Bitcoin, Ethereum, XRP and other major altcoins. ETH cleared a resistance level of $ 620 and rose above the $ 635 level.
As a result, there was a strong increase, and the price broke resistance of $ 650. Ethereum hit a month-high of $ 676, well above the 100-hour simple moving average. Recently, there has been a downward correction below the $ 650 level.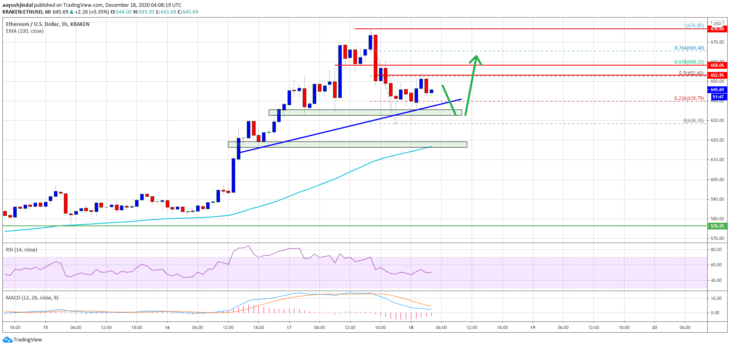 But the Bulls remained active above the $ 630 and $ 635 levels. A drop of around $ 628 has occurred, and the price is now consolidating the gains. It recovered above the $ 640 level. It was also a break above the 23.6% Fib retreat of the recent drop from $ 676 to $ 628.
It is currently facing strong resistance near the $ 652 level. The 50% Fib retraction level of the last drop acts as a great resistance.
A net break above the $ 652 resistance level could open the doors for a new rally. The next main resistance is near the $ 658 level, followed by $ 675. A further rise would probably require testing of the $ 700 level.
Does Ethereum (ETH) fall?
If Ethereum continues to fall, trendline support and the $ 640 level could play a big role. The next main support is near the $ 630 level.
A downward break below the $ 630 support level could push the price towards the $ 620 support. The 100-hour simple moving average to provide support is also close to $ 620.
Technical Indicators
The MACD for hourly MACD – ETH / USD is slowly losing momentum in the bullish zone.
For hourly RSI – ETH/USD, the RSI is currently close to 50.
Main support level – US $ 630
Main resistance level-652 US dollars
Join our Telegram Channel coinputin for latest cryptocurrency news and discussions..