Business
Crazy Bitcoin Prediction and 3 Altcoin Suggestions Came From The Famous Name Who Did Not Mistake His Predictions
A popular cryptocurrency trader, who predicted that Bitcoin (BTC) will rise to about $ 19,000 in July, made important statements about Bitcoin and at the same time made a price forecast for 3 altcoins.
The cryptocurrency strategist known in the industry as Jack Sparrow said he managed the risk as BTC approached its all-time high of $ 20,000:
After a 400% rally since March, ATH is very soon now. I made a serious profit in cash. I take away the opportunity for the market to reject unrealized profits. If the market is generous, I think LONG. If not, I'll buy later as risk-defined level.
Bitcoin Could Reach $ 396,000
Jack believes Bitcoin could rise to $ 396,666 by 2023 as gold loses its appeal as a store of value asset, although BTC has a short-term bearish trend.
It also suggests that the largest cryptocurrency will go through two short cycles, peaking in 2021 and 2023, before entering a long bear market cycle. Jack's speculative theory is based on the adoption cycles of gold and technology.
Supporting his view of shorter cycles, he exemplifies the logarithmic scale to show how "faster and steeper" the current rally is than previous bull markets.
On a logarithmic scale, the price is outperforming the 2013-2017 cycle for now. Maybe a little early, but I think this cycle will compete with the previous one.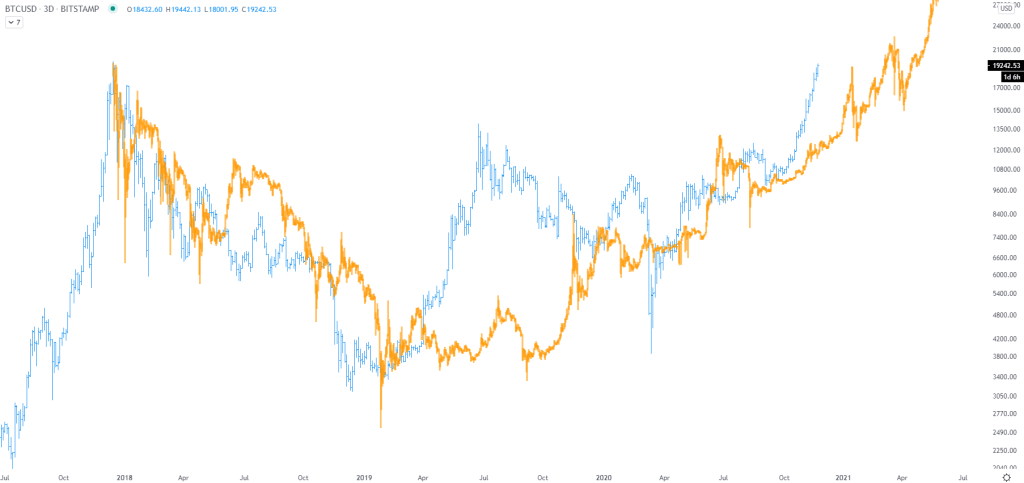 Jack says he is following Ethereum (ETH), yearn.finance (YFI) and Uniswap (UNI) closely while waiting for Bitcoin to experience a correction.
Join our Telegram Channel coinputin for latest cryptocurrency news and discussions..