coinputin.com – The economic effects of the coronavirus epidemic in the world continue to be serious. Both governments and the public continue to have fears about inflation around the world. In the midst of all this madness, there was an explosion in the number of searches of "Bitcoin"on the internet.
Searches for Bitcoin (BTC) on Google have reached their highest level. Bitcoin has reached an all-time high in terms of price, while searches have also boomed. As of this week, Google Trends, designed to measure overall interest in Trending Topics, rated the US search query for the keyword 'Bitcoin' at 100 points. That's three times more than the recently observed value of 30.
Meanwhile, the worldwide trend of the same keyword is still three times higher than its score of 97 and 33 at the beginning of October 2020.
Signs Of Ascension
Bitcoin rose to an all-time high of $ 19,915 on Monday, according to Coinbase data, as well as an increase in search volume on the internet. The record came as part of a rally that has seen the price of Bitcoin rise more than 400 percent since its mid-March low of $ 3,858.
It also marked the second time Bitcoin has come so close to testing $ 20,000 since the frenzy in December 2017. At the time, Google Trends ' global "bitcoin" score had reached 100 over a five-year period. Crypto market analyst Jebb McAfee took the situation as a bullish sign and noted that Google Trends data added to a record-high Bitcoin Price shows that the cryptocurrency has more room for further growth. The data could confirm that institutional investors are pushing up Bitcoin prices.
Bitcoin Adoption Boom
Several firms, including MicroStrategy, Cypherphunk Holdings, Square and others, have transferred a significant portion of their cash reserves to Bitcoin. Their decision came in the wake of the Federal Reserve's endless bond-buying and excessively low interest rate policies that have hurt short-term government debt and the US dollar.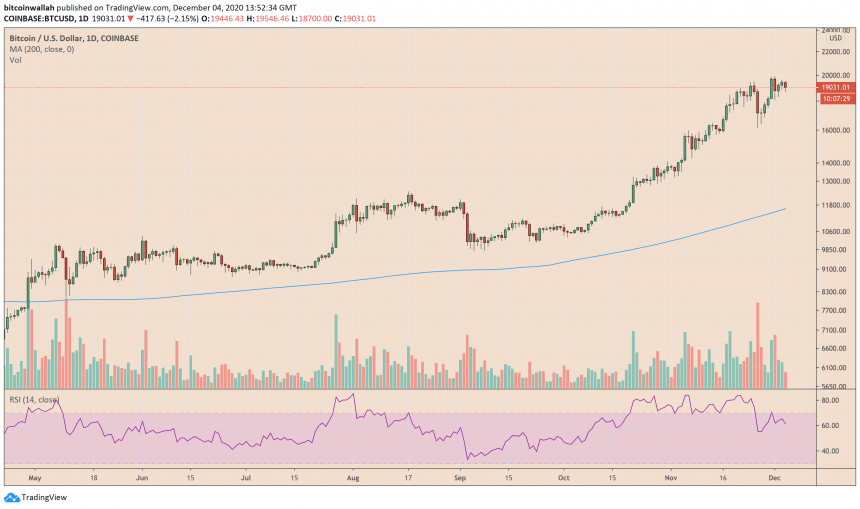 Many firms now fear inflation and think it is melting the dollar. This, in turn, is driving interest in Bitcoin.
Join our Telegram Channel coinputin for latest cryptocurrency news and discussions..