Cryptocurrencies
Bitcoin (BTC) also set a record in terms of market capitalization!
Bitcoin (BTC) hit an all-time high today. The leading cryptocurrency exceeded this level, setting a record in its history. BTC also managed to reach a market value of $ 450 billion today for the first time in history.
Anthony Pompliano, one of the leading figures in the cryptocurrency world, announced via Twitter that Bitcoin has achieved a first in history in terms of market value, reaching $ 450 billion. Pompliano stated that:
"Bitcoin today reached a market value of $ 450 billion for the first time in history."
The market capitalization of the leading cryptocurrency was $ 453 billion at the time of writing, according to CoinMarketCap data.
BTC placed first
Bitcoin also ranks first on the list of the world's largest banks by market capitalization, according to Companies Market Cap data. BTC, as we reported earlier, had won this first place in recent weeks. The leading cryptocurrency has since experienced an increase of about $ 30 billion in market capitalization.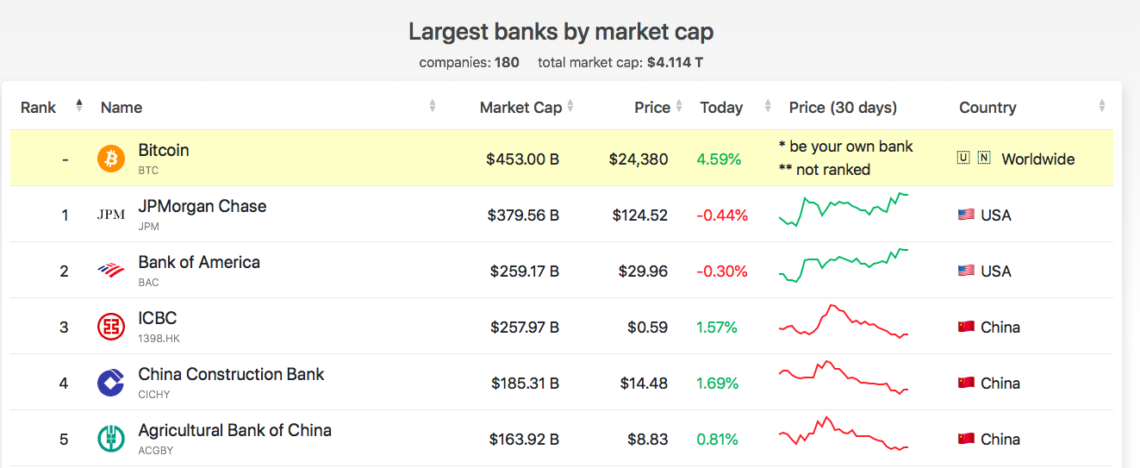 Join our Telegram Channel coinputin for latest cryptocurrency news and discussions..