Cryptocurrency analysts believe that Asian whales sell large amounts of bitcoin throughout the week. Joseph Young suggested that this was not limited to weekdays, and that these whales also sold bitcoins over the weekend.
During this week, large amounts of bitcoin were released from exchanges in the United States, while large amounts of bitcoin were sent to exchanges in Asia. Several thousand bitcoins were sent several times to exchanges such as Bithumb in South Korea in particular. Chinese journalist Dovey Wan " " I can't understand why Asian Shorts are so obsessed with certain price levels."he commented.
Sale resumes at the end of the week
Cryptocurrency analyst revealed that thousands of bitcoins have been sent to exchanges in Asia since beginning of this week. A whale in Asia sent 882 thousand bitcoins to Bithumb on January 5th. On January 6, 3 thousand bitcoins were transferred to Bithumb again.
"Where Do Korean whales get so much Bitcoin? They sent $ 100 million twice in 2 days."
Today's data showed that whales continued to be sold at the end of the week. According to CryptoQuant data, 2,98 bitcoins were sent to the Korbit exchange in South Korea in the morning.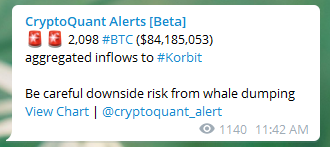 There is a struggle between whales
Charts shared by Material Scientist suggest that a fight may have begun among bitcoin whales. According to this data, when the price of bitcoin fell from 40 thousand dollars to 36 thousand dollars, large whales began to sell large amounts of btc. According to Joseph Young, the whales made such a decision" because they thought the price would fall further." But it did not fall below 36 thousand dollars, and the price rose again
Small whales, which did not sell for 36 thousand dollars, began to sell for profit, knowing the opportunity to increase the price. Young explained that these transactions were largely worth $ 100k – $ 1 million, and summarized the situation as follows:
"Always the same story. Buyers in the US (mainly Coinbase) move Bitcoin to a record; when Bitcoin breaks a record, sales come from whales. In this case, it is necessary to track how much bitcoin comes out of Coinbase and the volume of Coinbase."
Join our Telegram Channel coinputin for latest cryptocurrency news and discussions..